Virtual Tour Author:
Bob Freeman Featured Book:
Shadows Over Somerset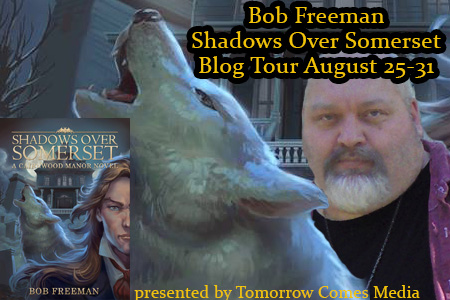 I'm super excited to have Bob Freeman on the blog today. He's the founder of Nightstalkers of Indiana paranormal investigators and I've asked him to list his Top Ten Favorite Paranormal Places.
Top 10 Favorite Paranormal Places
Investigated by Bob Freeman & Nightstalkers of Indiana

I formed Nightstalkers of Indiana in 1983. In the years since, I have investigated all over the US, and have made excursions into Mexico, Canada, and even Scotland. But Indiana is my home and it's where I have done my most thorough research. So, with that in mind, I have decided to limit this list to those places I discovered in my own backyard, because, to be frank, they have been more personal.

10. "Hobbitland"

In mid-December, 1812, Lt. Col. John Campbell and a Calvary of 600 soldiers attacked several Miami Indian villages along the Mississinewa River. It was a bloody affair. Now the site of a popular reenactment, in my day it was where young people went to party and hook-up. These young people called the area "Hobbitland" because of the persistent legend of little "quasit-like" creatures that made the area they're home.

9. Elwood Opera House

Built in 1887, the majestic Elwood Opera House was a popular venue for the biggest performers of the era. It also housed a Masonic Lodge. Having investigated there on several occasions, I've been lucky enough to capture numerous EVPs, to have been personally touched by unseen forces and witnessed others experience the same, to have seen doors open and close, with force, as if by their own accord, and experienced a wealth of other sensory sensations.

8. "Devil House"

Led to an abandoned farm house in the middle of nowhere by a concerned conservation officer, I was stunned to find an upstairs room in this derelict house to be covered in esoteric graffiti by a steady and talented hand. Here were intricate spell circles and exotic sigils and runes covering every bit of conceivable space. There were also the remnants of candles and the remains from some form of animal sacrifice. The air was charged with energy and some disturbing EVPs were collected. The house was soon after torn down by its owner.

7. Seven Pillars

A sacred site to the Miami Indians, these seven columns, carved into the limestone by the rise and fall of the Mississinewa River, is said to be home to preternatural beings who live between this world and the next, with the natural formations of the Pillars being a gateway between these worlds. I consider it the epicenter to all the weird and wonderful paranormal phenomena in northern Indiana and home to unseen forces, sentient apparitions, and residual manifestations.

6. "Murder House of Liston Glen"

A favorite haunt of mine until it was torn down by its owners, the legend goes something like this: "Years ago a family lived here, but one Halloween night something terrible happened. The father woke up and went outside and grabbed his axe and proceeded to chop his wife and two sons up into little pieces and then he burnt them in the fireplace in the basement. After he had let the fire consume their bodies, the man climbed the steps to the upstairs balcony and hung himself. His spirit has remained trapped in this house ever since."

5. "The Shadows"

Along the Mississinewa River, nestled in the woods not far from Five Mile Bridge, are two stone chairs on either side of a stone throne that face a firepit. Isolated, long abandoned, here there be shadow figures that watch from the woods and the audible whispers of unseen spirits. On one occasion, I discovered pennies from the early 1900s on the ground, stamped with the Masonic trowel on one side and the square and compass on the other.

4. Little Pipe Creek Cemetery

As a young boy of 8, I used to sneak out of my parent's trailer and spend long hours in this little cemetery. See, it had a wild reputation: a gate that opened on its own to allow ladies to pass, or to strike out at young gentlemen, disembodied voices, and phantom growls, or so the legends say. It has the distinction of being the site where I witnessed my first apparition.

3. "The House That Time Forgot"

There was (is?) a house set far back in the woods, no visible road back to it, not far from the town of Somerset, a mere stone's throw from a place we called "The Cliffs". The house was abandoned, but curiously, the people left everything behind... furniture, clothes, food, an attic full of this and that. On the coffee table was an open newspaper from 1966, the year I was born and the year the Mississinewa Dam was constructed. It was here, watching anxiously from the attic stair, that I experienced my second apparition, a pale mist, accompanied by the thuds of footsteps, traversing the first floor.

2. Beacon Lodge

I've promised the owners not to disclose the location of this site, easily the most haunted place I've ever had the pleasure to hunt. An old gentleman's lodge built in the mid-1800s, this place has given up a veritable treasure trove of evidence over the years: Countless EVPs, Disembodied Voices, Shadow Figures, Full Bodied Apparitions, Physical Attacks, and more. I have shared it with dozens of other investigators and it has never failed to leave an impression.

1. Goose Creek

The Nightstalkers of Indiana were born on October 22, 1983 at a place called Goose Creek.

What do I remember most from that night? An inverted pentagram framing the full moon overhead. The roadway covered with dead fish. The fumbling of the Invocation. The circle of protection being inadvertently broken (way to go, Andy). A frightened teenage girl whispering, "Oh God…" and a sinister reply —"Your god can't help you now!" And screams. Lots of screams.

More than thirty years later and that evening is still just as fresh in my mind as it was the day after. It was a defining moment. I went from dabbling in the paranormal to becoming a serious student, practitioner, and investigator of unseen forces and all those many things that go bump in the night.

It's been a long road filled with countless thrills and chills along the way, but that road always leads back to Goose Creek, in the heart of the Mississinewa Reservoir, back to where it all began, on a cold, autumn night, with a blood moon piercing the darkness and the haunting memory of what happened there.
I would love to thank Bob for being here today and to Stephen at Tomorrow Comes Media for the introduction to Bob, his novel, and his paranormal investigations.
About Shadows Over Somerset: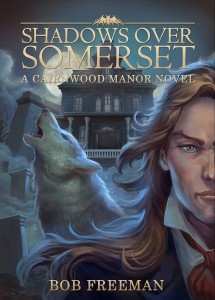 Michael Somers is brought to Cairnwood, an isolated manor in rural Indiana, to sit at the deathbed of a grandfather he never knew existed. He soon finds himself drawn into a strange and esoteric world filled with werewolves, vampires, witches… and a family curse that dates back to fourteenth century Scotland. In the sleepy little town of Somerset, an ancient evil awakens, hungering for blood and vengeance… and if Michael is to survive he must face his inner demons and embrace his family's dark past. Shadows Over Somerset is the first Cairnwood Manor Novel.
Amazon Purchase Link for Shadows Over Somerset:
Shadows Over Somerset (The Cairnwood Manor Series Book 1)
About the Author: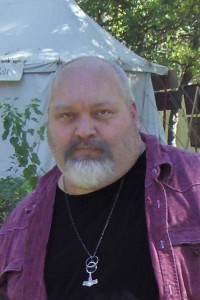 Bob Freeman doesn't just write and draw occult detectives, he's also a card carrying paranormal adventurer who founded Nightstalkers of Indiana in 1983. A lifelong student of witchcraft, magic, and religion, Bob's studies are reflected in his art, both as an author and illustrator. Bob lives in rural Indiana with his wife Kim and son Connor. He can be found online at occultdetective.com
Find the Author Online:
Tour Schedule and Activities:
8/25
Jess Resides Here
Interview
8/25
I Smell Sheep
Interview
8/25
Beauty in Ruins
Guest Post
8/25
Shells Interviews
Guest Post
8/26
The Cabin Goddess
Review
8/26
Kentucky Geek Girl
Top Ten List
8/26
The Official Writing Blog of Deedee Davies
Top Ten List
8/27
Stuart Conover's Author Page
Interview
8/27
Blog of Sheila Deeth
Post on Art
8/27
Deal Sharing Aunt
Top Tens List
8/28
Horror Delve
Top Tens List
8/28
SBM Book Obsession
Guest Post
8/28
Armand Rosamilia, Horror Author
Guest Post
8/28
Willow's Author Love
Top Tens List
8/29
Bookishly Me
Review
8/29
The Rage Circus Vs. The Soulless Void
Interview
8/29
Azure Dwarf
Guest Post
8/29
Vampires, Witches, and me, oh my
Guest Post
8/30
Sapphyria's Book Reviews
Top Tens List
8/30
Bee's Knees Reviews
Review
8/30
A Haunted Head
Interview
8/31
Horror Tree
Guest Post
8/31
The Rage Circus Vs. The Soulless Void
Review
8/31
Seers, Seraphs, Immortals and more!
Interview
Tour Page URL:
http://www.tomorrowcomesmedia.com/bob-freemans-shadows-over-somerset-tour/